Vaadi is one of the top fishing harbours in Kollam, Kerala after Neendrakara Fishing Port. It's home to a large settlement of fishermen community whose main livelihood is from the Arabian Sea.
Though the entire costal line of Kollam has Fishermen settlements, majority of them are settled near to the Vaadi & Thangasseri region and it makes Vaadi one of the top fishing destination in Kerala. One can easily reach Vaadi region as the port road connects Kollam beach and the Vaadi fishing harbour. Majority of the tourists and general public commutes to Thangasseri via the port road to have a glimpse of the harbour during the sunset. Sunset view of the harbour is mesmerising with golden shades of light over the blue ocean and many a fishing boats across the horizon of Arabian Sea. Many people prefer this port road for their routine walks and cycling just to experience the soothing breeze from the sea and the view of one of the top fishing harbours in Kerala.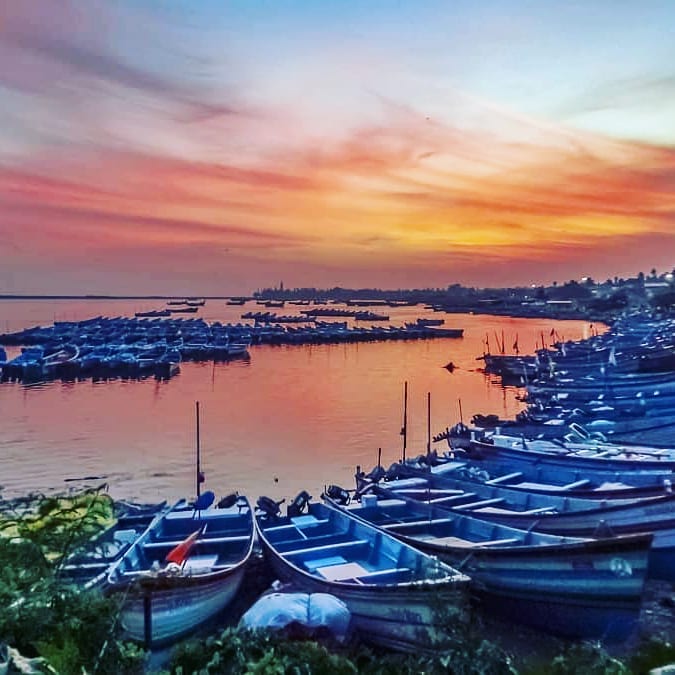 Hundreds of boats go fishing everyday from the community and the fishes are sold by bidding at the Fish Market in Vaadi. The Fish Market is located right at the coastline. It will be mostly crowded with bidders, sellers, brokers and general public. Ideal time to visit the market is around 1pm-2pm noon time to get the best bargain buys. One can also find the brokers of large fish export companies bidding at the market for bulk bargain buys. If you plan to buy fish from the market directly then always make sure not to fall for the tricks of the brokers at the market as they tempt you to bid for a higher value by false bidding. The brokers usually have their friends around to make false bidding to lure in the newcomers to bid for higher values. Never forget to carry your shopping bags too as you can only buy in bulk or a as single big fish ( usually to the range of 8-20 Kgs ). All this contribute to making vaadi one of the top fishing harbours in Kerala.
If you requirement is less then you can buy daily catches at the outlet of Fisheries Department, Government of Kerala. The outlet is located opposite to the main entrance of The Quilon Beach Hotel, Kollam. You can also try the yummy seafood dishes served at The Quilon Beach Hotel, as you know they get them fresh right from the Vaadi Market. Fishes available at Vaadi is one of the world's best and know for its taste and is exported to many countries across the world.
Contact for more Info: +91 474 276 9999
Discover more about Kollam at :