Saint Thomas Fort Tangasseri, Kollam  is also known as Tangasseri Fort, is a ruined fort located in the beach town of Tangasseri on the shores of the Arabian Sea. It is located around 5 kilometres (3.1 mi) from the city centre of Kollam. It is situated right between the breakwater and Vaadi Fishing Harbour. 
Tangasseri was associated with the Chinese trade from the first millennium AD and later colonised by the Portuguese, Dutch and the British to become the "gold village". According to Historians, Captain Rodriguez came to Quilon and was appointed as the captain of the factory and trade, with permission from the queen. St.Thomas Fort (once known as Fortaleza da São Tomé) was built by the Portuguese under Afonso de Albuquerque for the protection of the newly developed trade. In 1505 the Portuguese established a trading port here, and in 1518 established its sovereignty through the construction of St. Thomas Fort Tangasseri, Kollam Later in 1661 the town and the fort were handed over to the Dutch who made it the capital of Dutch Malabar. The Dutch occupied the fort for several years. In 1795, the British East India Company took possession of the fort. In 1823 Fort St. Thomas accepted a lease by Travancore from the British Government for a period of twenty years.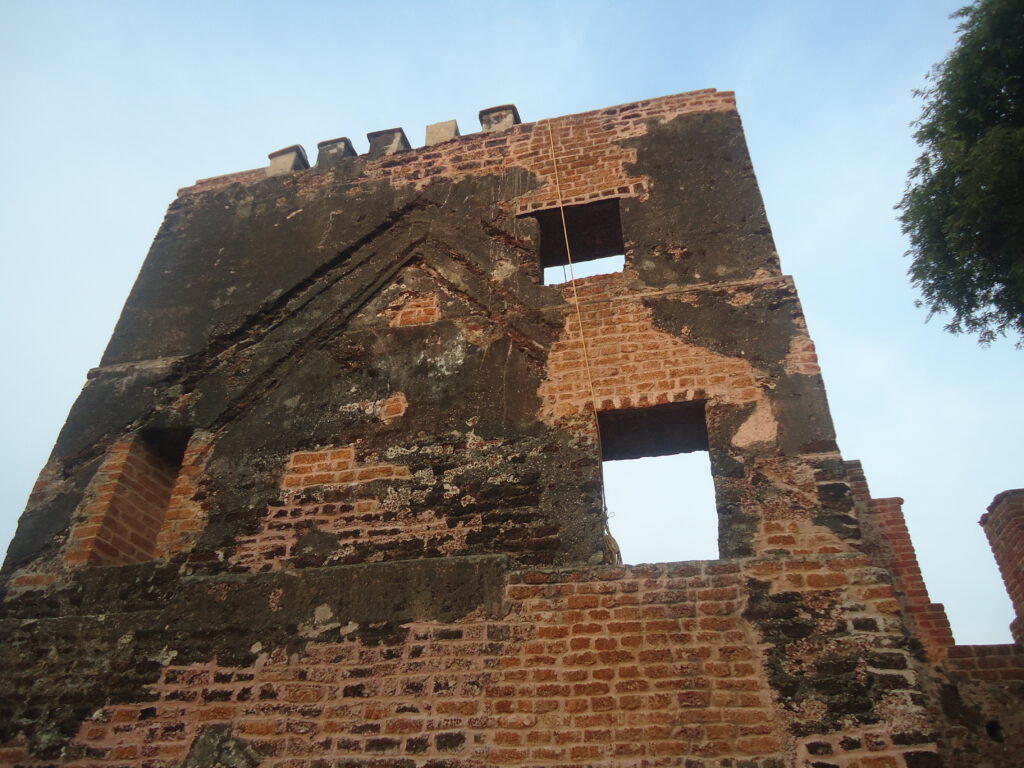 "Thangasseri" literally means "Gold village" in Malayalam language. The place was named as Thangasseri because this was the place where trade was done using gold as the currency. Thangasseri Fort was the favorite spot of the Dutch and the Portuguese. The Thangasseri Fort was constructed in the 16th century and right now only the ruins are left behind. The fort was about 20 feet tall. In olden times, Thangasseri was of strategic importance to the colonial powers that were constantly trying to establish their control of trade on the Malabar Coast. As per records, the Portuguese initially approached the Rani of Quilon in 1517 to construct a factory at Thangasseri for trade purposes, which was granted. However, it is believed that the locals subsequently burned down the factory. Although the Portuguese were given permission to rebuild the factory, they decided to build a fort instead. In 1519, the Thangassery Fort was constructed strategically on a promontory overlooking the choppy waters of the Arabian Sea. Thangasseri was sequentially under the Dutch who defeated the Portuguese in 1761 and then passed into British hands with the rout of the Dutch at Kochi in 1795.
The Portuguese Cemetery (after the invasion of Dutch, it became Dutch Cemetery) of Tangasseri in Kollam city, India, was constructed around 1519 as part of the Portuguese invasion of the city. Buckingham Canal, a small canal between Tangasseri Lighthouse and the cemetery, is situated very close to the Portuguese Cemetery. A group of pirates known as the Pirates of Tangasseri formerly lived at the Cemetery. The remnants of St. Thomas Fort and Portuguese Cemetery still exist at Tangasseri. 
Contact for more Info: +91 474 276 9999
Discover more about Kollam at :